Cornelius Hartley Above Ground Swimming Pool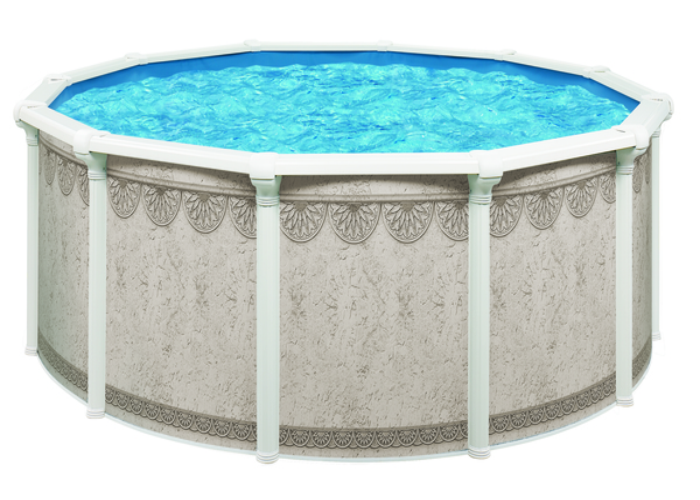 Available Sizes: 18' | 21' | 24' | 27' | 30'


Specifications:
Another well built Cornelius Pool - the Hartley is a 54" deep, hybrid above ground swimming pool featuring a 9" Extruded Resin top ledge. This pool will give your family years of backyard fun and enjoyment at an affordable price!


Wide Top Ledge:
9" wide, extruded high impact resin top ledge.


Wide Vertical Post:
The vertical post is a 6" wide Krystal Kote coated, hot dipped, galvanized steel box column vertical providing lots of support to the pool for large families.


Krystal Kote Finish:
The finish on the pool is Krystal Kote - a clear resin finish which is applied over the painted, galvanized steel components for long lasting protection to your pool from scratching, the UV rays of the sun, and corrosion.


Corrugated Steel Wall:
Deep corrugations are put into the wall for added strength against ice and impact damage.


Manufacturer's Limited Warranty, 4 Years Full/30 Year Pro-Rated:
Cornelius' exclusive 30 year warranty will give you years of confidence in the quality of this pool!


Pre-punched Knockout for skimmer and return:
Pre-punched by the manufacturer, the knockouts for the skimmer and return are done for you! No need to worry about doing this in the field and possibly damaging the pool or the pool finish.


Covers - Rails:
The rail covers are two-piece, and are injection molded of high impact resin.


Rails:
The top and bottom support rails are manufactured corrosion resistant resin.


Connector Plates:
The top and bottom connector plates are manufactured of corrosion resistant resin. The bottom connector plate is a combination foot collar/connector plate all in one.


Beautiful Wall Pattern and Color:
The 54" wall features an attractive wall pattern, and is sealed with Krystal Kote - a protective coating used to protect the wall against damage from the environment (UV rays of the sun) and chemicals.


Specifications are subject to change without notice.